It has been quite the ride for competitive Halo over the recent Halo World Championship season, including both wild roster changes, as well as intense competition through the online qualifiers. This weekend, for the first time ever, Halo was featured at the X Games in Aspen via an invitational tournament featuring eight of the world's best teams. Below you'll find a recap of all the action that went down in Aspen at the first ever North American LAN for Halo 5: Guardians.
Teams & Groups
Group A:
Team Allegiance
Renegades
Team Liquid
Epsilon eSports
Group B:
Counter-Logic Gaming
Evil Geniuses
Dream Team
Penta eSports
---
Day 1 (Group Play)
Day One of the Halo X Games Invitational was short, featuring only four matches, but showcased some of the most competitive Halo 5: Guardians gameplay we've seen to date.
Thursday was a day of sweeps, as both matches from each group resulted in 3-0 victories. Counter-Logic Gaming and Allegiance set the tone for the European competitors' performances for the weekend, as they both swiftly took down Penta and Epsilon 3-0, respectively. Penta and Epsilon weren't out yet, as they would have two additional matches on Friday to redeem themselves and make it to the final Bracket.
As for the additional matches, Evil Geniuses took down 6th seed Dream Team, showcasing their new talent in recent pickup and up-and-comer Commonly. However, the true highlight of Day 1 was the storied match of Team Liquid against the newly formed Renegades. Fan favorite Ninja and Spartan were both members of Team Liquid at the start of the HWC season, and were both replaced on separate occasions, so fans had quite the grudge match to look forward to. The newly formed Renegades squad tore through Team Liquid (3-0), perhaps sending a message to Liquid regarding their decisions throughout Roster Mania.
---
Day 2 (Group Play)
Day 2 marked the conclusion for Group Play, and definitely was home to more awesome competitive matches. Allegiance proved their dominance in the Online Qualifiers was no hoax, as they stormed through both Renegades and Team Liquid, going undefeated in Pool A, only dropping one map in each of their series.
Of course after a disappointing showing from Day 1 from the European competitors, fans were not expecting much to change when they played their remaining matches for Day 2. While German representative Penta Sports was not able to take down any of their American competitors, Epsilon eSports took everyone by surprise by upsetting the fan favorite Renegades (3-1). Evil Geniuses fell to Counter-Logic Gaming in a quick 3-0 series, however controversy struck when fans and players questioned ruling on technical difficulties.
Team Liquid went on to go 1-1 for the day, leaving them in last place for Group A, only able to defeat Epsilon in one of the final matches of the day. This meant that both Epsilon and Liquid would be eliminated due to tiebreaker rulings, along with Penta and Dream Team. This left Renegades, Allegiance, CLG, and Evil Geniuses in the Top 4 bracket.
---
Day 3 (Final Bracket)
The top four teams that made their way out of Group Play earned spots in the Final Bracket, which would decide who would be taking home part of the $30,000 Prize Pool, but more importantly, who would be taking home X Games medals.
The first semifinal match – Renegades vs. CLG – was just as intense as one could imagine. Fans tuned in to Twitch, MLG.tv, ESPN, and more to watch Renegades' aggressive style pitted against the structured and patient CLG. Even with the power of the fan support behind them, Renegades was taken down thanks to the calculated play style of CLG on maps such as Truth CTF and The Rig Strongholds.
The second semifinal was much more neck-and-neck, allowing Evil Geniuses the chance to prove that their new pickup of Commonly could hang with the best when they faced #1 seed Allegiance. In an intense series that went up to six games, Evil Geniuses took down Allegiance, denying Naded his first LAN win once again. Allegiance would go on to sweep Renegades 4-0 in a fairly dominating fashion, earning themselves Bronze medals and leaving Renegades with a 0-8 record in the bracket to reflect on as they head forward into NA Regionals later in February.
And so remained the final match, a conclusion to a storyline that seemed almost too perfect to be real – Evil Geniuses vs. Counter-Logic Gaming, fighting for X Games Gold in the Grand Finals.
---
Hurricane Lethul (EG vs. CLG)
If you have been out of the loop for the past few weeks, you surely have missed one of the most exciting and controversial storylines in Halo eSports history. Nearly three days before the permanent roster lock, Lethul, established support player for Evil Geniuses (and renowned 'cool guy'), parted ways with the esteemed EG roster that had won both HCS Seasons 1 and 2. Shockingly, he took the place of the 'GOAT' Ogre 2 on Counter-Logic Gaming, a change that sent shockwaves both through fans in the community, as well as other pro team rosters such as Renegades, Winterfox, EnVyUs, and OpTic Gaming. Evil Geniuses snagged a last minute pickup (Commonly) and the teams were set for the intense weekend ahead in Aspen.
And as you read above, these two new rosters met up in the Grand Finals, fighting for $15,000 and X Games Gold Medals. Would Lethul prove he was better than Evil Geniuses all along, or could the new EG roster prove that they can truly be #BetterWithCommonly?
The competition began with two symmetrical maps, Truth Slayer and Coliseum CTF. While Evil Geniuses dominated the Truth game, Coliseum CTF was a whole different story. Intense flag returns led to back to back flag captures leaving the game tied 2-2. After incredible positioning and outplays from CLG pushing through Fridge and Blue Cave, Lethul grabbed flag and made a daring play due to incoming unpredictable spawns from Evil Geniuses. He ran the flag through Scattershot (an unconventional route) an was picked off. Luckily, Snakebite managed to snag the flag and ran an effective and safe flag route through Red Elbow, sealing CLG's victory, and starting strong in the series.
Later on in the series, CLG began to heat up as Lethul and Frosty demonstrated spectacular objective play in a game of Fathom CTF; immediately after, Royal 2 heated up on Eden Team Slayer – the game full of snapshot Sniper Kills. After excellent clutch plays from Commonly and Snipedown on Plaza Strongholds, Evil Geniuses held strong Nest/Bottom Middle setups and were able to tie the series 3-3, bringing fans exactly what they wanted – Game 7 between the new CLG and EG.
Game 7 was a textbook hyper-paced Slayer on Regret. Evil Genius maintained weapon and top control throughout majority of the game, and started with a strong score lead as well. During the last weapon cycle of the game, CLG won the team fight bottom middle and gained Fuel Rod and Overshield control. However, they remained stuck on the bottom portion of the map (Blue Tunnel) as Evil Genius maintained composure and played textbook Regret strategy. They kept their focus entirely on players without Overshield to secure their final kills, ending the game 50-40, and claiming the champion title along with X Games Gold Medals, the first to do so in Halo eSports history.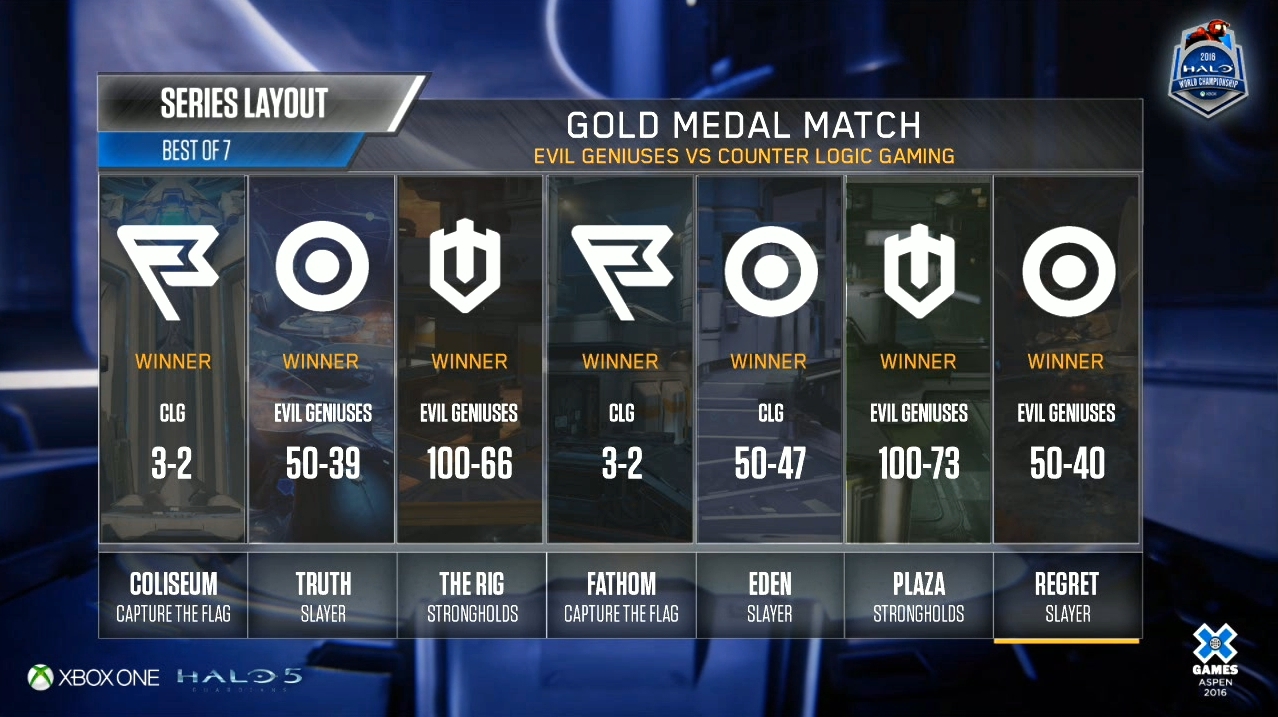 Evil Geniuses and Counter-Logic Gaming seemed to be on nearly perfect even footing, and most fans are saying that this is the best finals of a Halo event that they have seen in a long time. Evil Geniuses maintains their six-event winning streak and are looking to carry this momentum into NA Regionals later in February.
Final Placings
1st – Evil Geniuses ($15,000 / Gold Medals)
2nd – Counter-Logic Gaming ($10,000 / Silver Medals)
3rd – Team Allegiance ($5,000 / Bronze Medals)
4th – Renegades
5-8th – Team Liquid
5-8th – Epsilon eSports
5-8th – Dream Team
5-8th – Penta Sports
Will Allegiance come out swinging even harder? Can Evil Geniuses be bested after minor tweaks from Counter-Logic Gaming? Will Renegades adapt their aggressive style and become one of the elite? So many stories are left to be told for the remainder of the Halo World Championship season; the Halo X Games Invitational was just the beginning.
---
You can continually stay on top of all of the #HaloWC drama and news by discussing on our forums alongside our active Halo eSports community!